Link ToAds™ connects Network Operators and Advertisers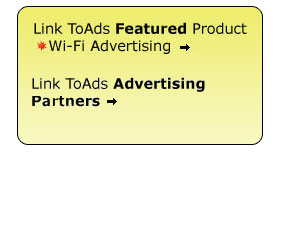 Network Operators
Don't go on another day without monetizing your wired or wireless networks through hotspot advertising. We're offering industry leading Wi-Fi advertising opportunities for hotspots and hospitality managed networks that monetize your network and drive profits to the bottom line. Click here to Make Money Today!
Advertisers
Through our exclusive partnerships with thousands of Wi-Fi hotspot networks around the United States, we're offering revolutionary advertising opportunities that are unsurpassed in their ability to reach your prime target: affluent mobile professionals. Click here to Deal Direct and Save!
Why Partner with Link ToAds™?
The Link ToAds™ mobile advertising solution connects advertisers with an audience of affluent mobile professionals. The Link ToAds™ network is configured to deliver location-specific advertising and to provide sophisticated tracking of advertising performance, giving advertisers unprecedented control over their advertising campaigns. View a list of our wifi product offering.