Portal Page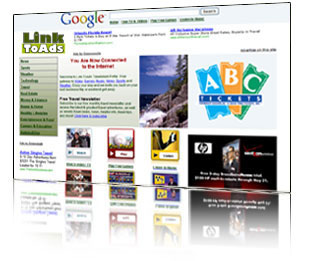 Providing useful information is the key to a positive user experience in any online environment. That's why most Wi-Fi network operators are missing a big opportunity to add more value to their users experience and more revenue to the network operator.
With informational links to news, sports, weather, video, events, and attractions in the surrounding area your portal pages becomes the go-to site for what is happening in your area as your customers enjoy the experience of surfing through your managed network.
Link ToAds™ provides location-based content, which provides Wi-Fi Users a better user experience than ever before. Our portal pages contain location-based information such as local news and events, maps, weather, and more, all on one convenient page as they log on to your Wi-Fi network.
Through our industry-leading hotspot application, we can manage and distribute local information on a hotspot-by-hotspot basis. This turnkey content delivery system means your users will have the most relevant Wi-Fi experience possible.
On the content side, we're building an ever-growing base of content providers to bring your network not only relevant content, but credible brand names behind it like 20th Century Fox, The Food Channel, Lonely Planet, Fox News, Reuters, WB, and many more.
Offering a portal page also provides a compelling environment for advertising and promotional opportunities. We complement our portal pages offerings by securing paid content placements, as well as display advertising commitments. The portal also provides the opportunity for you to up-sell any additional products and services with promotional units embedded in the page.
Link ToAds™ takes a "modular" approach to your specific portal page needs and requirements. This gives us and our partners maximum flexibility in terms of what content is displayed and how often it's changed. In addition to hosting the page, we also track user behavior to maximize usability and revenue performance.